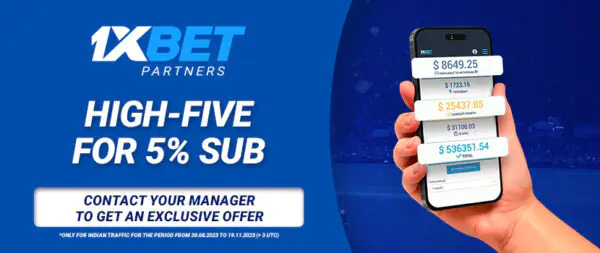 Hey there, fellow affiliates! Are you ready to level up your affiliate game and make those referral bonuses skyrocket? We've got some exciting news that's going to make you want to give everyone around you a high-five.
We're thrilled to announce an exclusive opportunity that will boost your earnings like never before — the 5% referral campaign for Indian traffic only!
For a limited period, from August 30, 2023 (00:00 +3 UTC) to November 19, 2023 (23:59 +3 UTC), you have the chance to earn a whopping 5% SUB-affiliate commission on the profits generated by your referred affiliates. That's right – your pals in the affiliate marketing world can join hands with us, and you'll be taking home a juicy 5% slice of their earnings.
So, how does this work? It's as easy as pie. Here's a quick rundown:
Reach out to your personal manager: Get in touch with your dedicated manager and express your interest in joining the for 5% campaign.
Secure your exclusive link: Your manager will help you to generate a unique referral link. Share this link with your friends, acquaintances, and fellow affiliate marketers who are looking to dive into the world of opportunity.
Let them sign up: When your referrals use your link to sign up, they'll automatically become part of your affiliate network. This means their earnings will contribute to your commission.
Reap the rewards: As your referred affiliates start raking in profits, you'll be celebrating not just their success, but also your own. You'll be pocketing an incredible 5% of their earnings throughout the promotional period.
Remember, this is a limited-time opportunity, so mark your calendars and make the most of it from August 30th to November 19th, 2023. Your affiliate journey is about to get even more rewarding, so don't miss out on this chance to high-five your way to success!
Ready to dive in? Contact your manager today to get started and secure your exclusive offer.